By Bryan Hayes
While no one knows for sure if the low in June marked a true bottom, the formation of a market bottom typically starts with accumulation in certain industry groups and sectors. These leaders normally begin their rallies before the major indices. On the flip side, if this is a bear market rally, companies that can't get much going during the rally become ripe as short candidates.
When a stock isn't moving much when the broader market is higher, it's telling us "I'm very weak". These stocks are great opportunities to target for short positions if we believe further weakness lies ahead.
The industries with a substantial number of stocks witnessing negative earnings estimate revisions will most often represent the best profit opportunities, and it is this approach that leads us to the restaurant company that has been underperforming all year.
The company a stock keeps can help us determine which industry groups are poised for underperformance. How can we identify which industries are set to fall short of the market? Fortunately for investors, our Zacks Industry Rank makes the process simple. Zacks classifies all stocks into one of approximately 250 industry groups based on the Zacks Rank of the individual stocks. The average Zacks Rank is calculated for every industry group each trading day.
We put the Zacks Industry Rank to the test and compared how the top half (industries with the best average Zacks Rank) and the bottom half (industries with the worst average Zacks Rank) fared against the S&P 500. Using a one-week rebalance, the top half beat the bottom half by a factor of more than 2 to 1. Clearly, targeting stocks within the bottom half of industry groups when stocks are falling can help us take advantage of volatility rather than succumb to bear markets.
Let's take a look at a current example. The Zacks Retail – Restaurants industry is ranked in the bottom 27% out of approximately 250 industries. Quantitative research studies have shown that approximately half of a stock's future price appreciation is due to its industry grouping. Also note the unfavorable characteristics for this industry: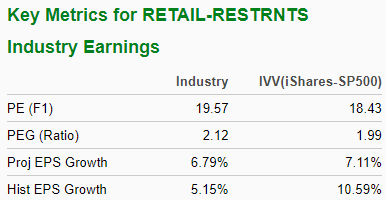 Image Source: Zacks Investment Research
Let's take a look at an underperforming restaurant company within this subpar industry.
El Pollo Loco (
LOCO – Free Report)
El Pollo Loco develops, franchises, licenses, and operates approximately 480 quick-service restaurants. A Zacks Rank #4 (Sell) stock, El Pollo Loco has seen its future earnings projections slashed as we can see below: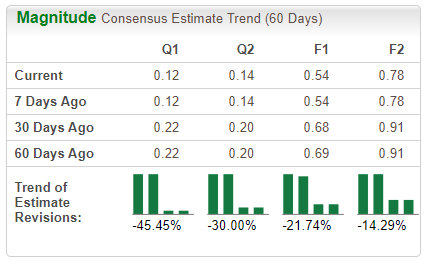 Image Source: Zacks Investment Research
For the current quarter, analysts have decreased estimates for LOCO by 45.45% in the past 30 days. The Q3 Zacks Consensus Estimate now stands at $0.12/share, translating to negative growth of -55.6% relative to the same quarter last year.
In addition, the stock simply hasn't been able to get much going during the summer rally: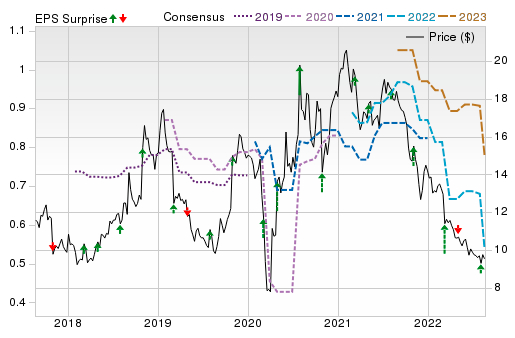 Image Source: Zacks Investment Research
A rise in food and beverage costs as well as restaurant labor costs continue to hurt the company. Higher repairs and maintenance expenses are also raising costs. We've also seen many companies in the broader retail space state that the outlook for consumer discretionary spending is weakening. With LOCO being dependent on consumer spending, the company is highly vulnerable to the inconsistent nature of discretionary spending.
If you're looking for a short candidate, the restaurant industry is a good place to start.